The web app is laid out so you can get to everything you need as simply as possible.
These help pages are written to assist users in finding their way around CalCal.
You will see the following sections in the CalCal web app: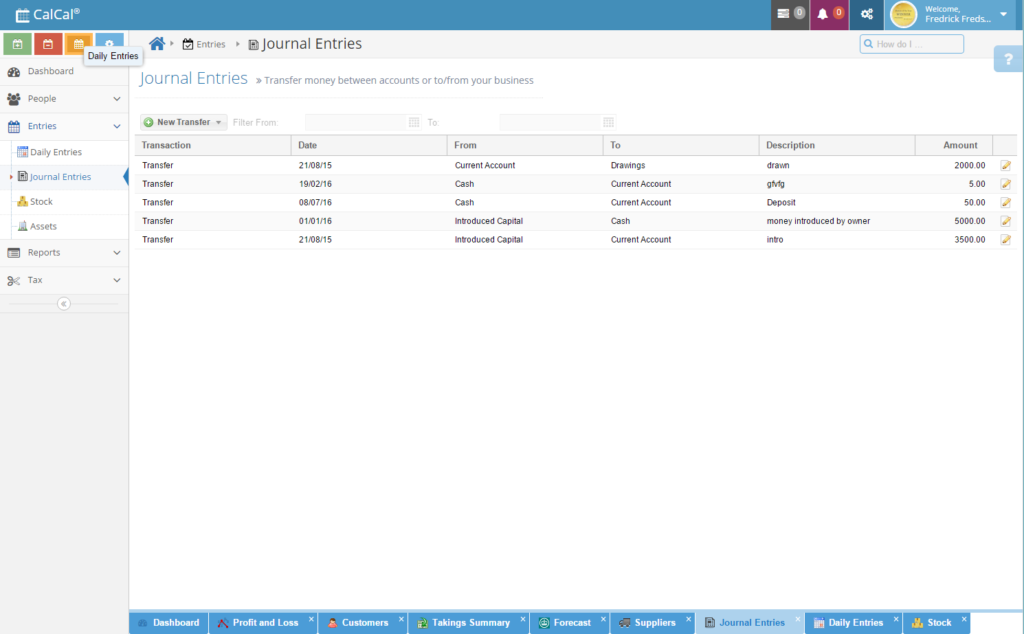 The Top Navigation Bar
Buttons
The notification button shows you notifications, for example when new bank transactions have imported or if you need to take action on anything.
The set-up button lets you edit details of your business in business details, add opening balances and assets, and name your bank accounts. You can also change the language of the web app from here.
The User Menu
Click on the "Welcome" dropdown at the top right to access this menu.
From here you will find links to
Your subscription page, where you can see invoices and change your subscription level or payment details
Your profile page, wheer you can change the details CalCal uses to get in touch with you, and your password.
Help pages (calcal.uk/help) where you can browse questions and knowledgebase articles
Logout will take you to a page to confirm that you want to log out completely from CalCal.
The Side Navigation Bar
Navigating in CalCal
You can use the pages list to navigate the various screens. Click around here to visit each screen and get aquainted with where things are.
Shortcuts
These shortcuts take you to add a taking or expense entry, go to Daily Entries, or open the Business Details settings box.
Expandable List Items
The web app is split into 5 sections:
People

Customers lets you send invoices, statements and take payments
Suppliers lets you keep track of what you owe

Entries

Daily Entries is where most things happen – it's our Calculating Calendar!
Journal Entries for simple bank transfers
Bank Import (if subscribed) can import your transactions from your bank account
Stock lets you tell CalCal the value of stock you have on hand
Assets helps you keep track of assets you purchase for business use and calculate their capital allowances

Reports

Various reports can be viewed interactively and downloaded as PDF or printed

Tax

Self-Assessment (if subscribed) lets you view your tax position and send your self-assessment to HMRC
VAT screen can view and download VAT reports and send your returns through MTD VAT
The Interactive Breadcrumb


The breadcrumb helps you see where you are in the web app. You can also use this to navigate – navigate back up by pressing the buttons, or change to another screen by using the dropdown arrow