Import Your Transactions
CalCal works with Plaid (authorised with the FCA) to import your transactions from your bank accounts. Then, use our simple drag-and-drop interface to save your figures in CalCal.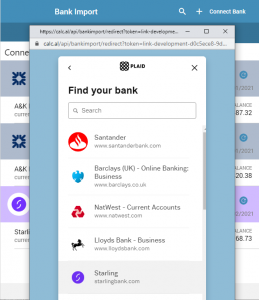 Auto-Import Each Night
Plaid is a trusted integration supplier used by many other accounting programs and facilities. They use OpenBanking so you give permission for CalCal to access your account data without having to give away your banking usernames and passwords.
Is this secure?
The permissions you give to CalCal on your bank accounts are limited to viewing transaction data only; neither CalCal nor Plaid has access to make new transactions. CalCal cannot see or change any other information other than the transactions.
Updated within hours
New transactions will appear in your CalCal app usually within 4 hours of showing in your bank account.
You can see these simply and easily in our unique Calculating Calendar